Door sales ended and entrance closed at Summer Beer and Cider Festival 2023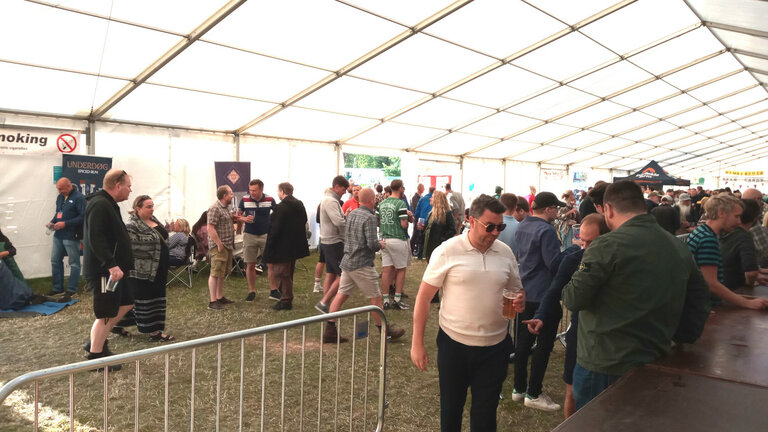 Entrance and door sales are now closed at the Chelmsford Summer Beer and Cider Festival 2023. Thank you all for coming out and supporting us, and making this year's revived event so rewarding to stage. See you all again in 2024!

Kevin Sutterby
Beer Festival Organiser
Summer Beer Festival 2023 Open for Business!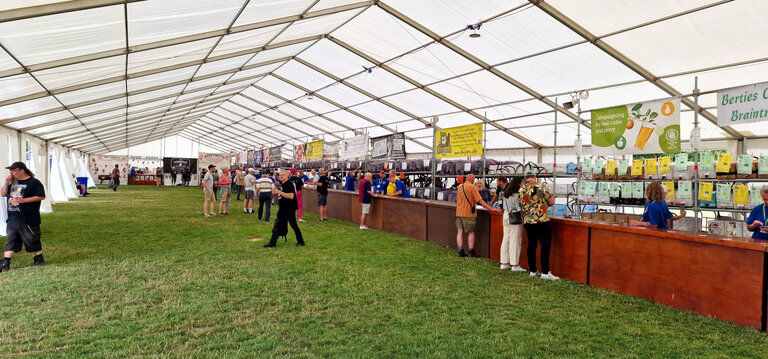 Chelmsford Summer Beer and Cider Festival 2023 is now open for business! Attendance has been high, and we were nearly drunk out of beer on Thursday evening. We look forward to welcoming festival-goers for the coming busy Friday and Saturday sessions...
Summer Beer Festival 2023 - Admiral's Park Site Build Commences!
Final preparations are in hand and we start to build the festival from Thursday 6th July. We have all of the ingredients to make the returned festival as good as any before.
A great selection of ales and ciders
A wine and gin bar for those who prefer
Some great food outlets offering a fantastic range
Live music every evening
A family-friendly Saturday afternoon session
Enough volunteers to make sure your visit goes smoothly
Ticket sales have exceeded expectations so far, Friday and Saturday have been in very high demand and we strongly suggest that you buy in advance to guarantee you can attend the day you want.
QR-code ticket holders will scan into the festival with virtually no queuing. Remaining tickets will be held at the entrance on the day and sold on a 'first come, first served' basis.
Finally to answer a question asked by so many people (and answered in our FAQs on cbcf.camra.org.uk!!) "Do I need tickets for my children?" - tickets are not required for those children accompanied by a responsible adult (i.e. 25y.o. and upwards).
Hope to see you at Admiral's Park next week!
Best regards,
Kevin Sutterby
Beer Festival Organiser
Chelmsford Summer Beer & Cider Festival 2023
To purchase tickets for this year's Summer Beer and Cider Festival, click here.
Also keep an eye on https://cbcf.camra.org.uk, Twitter #chelmsfordbeerfest and Facebook chelmsfordbeer for daily updates as we approach July.
Summer Beer Festival 2023 - Sponsor our Music / Promote your Business
We have a few slots left for a great sponsorship deal, allowing you to promote your business in front of thousands of festival-goers this summer. Contact sbfo@cbcf.camra.org.uk
Corporate/Business Tickets available for Summer Beer Festival 2023
Are you looking to reward your staff this year or offer your clients something 'different' or just a group of friends?
As in previous years, we are offering local businesses a simple way to obtain multiple tickets with a single transaction.
Contact corporate@cbcf.camra.org.uk for more information.
Summer Beer Festival 2023 Music Line-up Announced
This summer's beer and cider festival will be entertained by Bottleneck Blues (Martin McNeill) on Tuesday, the Ceilings followed by Victoria Weaver on Wednesday, Medicine Celtic folk/rock band on Thursday and Dave Sharp on Friday. On Saturday Family Day, Lottie and James followed by 33rpm will keep the music rolling!
Volunteering for the Summer Beer Festival 2023
You will be aware that the Chelmsford CAMRA Summer Beer and Cider Festival is back this year. If you have not already volunteered would you consider coming along and lending a hand. In return you get beer, cider, fun and friendship. Full details about volunteering can be found here and the volunteering form here. When complete, please email your form to ku.gro.armac.fcbc@reetnulov where you will receive further instructions.
Summer Beer Festival 2023 - A new size, and simpler
Organiser Kevin Sutterby spoke about the volunteer effort required to stage a Summer beer festival: "Over 2000 volunteer hours go into the advance planning, preparation, building and dismantling of the site. All festival-oriented work is done by unpaid volunteers from Chelmsford and Mid-Essex branch, with kind assistance from neighbouring branches in Essex and farther afield"
Help us make the Summer Beer Festival 2023 a sell-out
After last week's announcement that tickets were on sale for the Summer Beer Festival 2023, Organiser Kevin Sutterby has called all beer, cider and perry lovers to arms:
"At our last festival in 2019, we attracted a 20,000 crowd - a sell-out given our daily capacity particularly during the weekend sessions. Despite starting "small" again, please help us to make the festival's return this year a sell-out!"
Breaking: Ticket Site Live
Chelmsford Summer Beer Festival Organiser Kevin Sutterby has announced that tickets are now available from this site, just click on the 'Times and Prices' sidebar menu item.
"With the 2023 return being somewhat smaller than our last festival in 2019, we recommend getting your tickets early to avoid disappointment!", he added.